I posted before about the
Rolobox wheel set that Harry got for Christmas
. I think that it's a brilliant idea, it's just a set of plastic wheels that you can fit onto a cardboard box to turn it into a car, a truck...whatever you like! Mia is getting a bit big to be dragged about in boxes now, so I thought it was time that we tried something new. One of the wheels was already in use making a steering wheel for the cardboard box spaceship which has been resident in our kitchen for the last few months (and is still played with daily so no sneaking it out to the recycle bin just yet), so we sacrificed that to make a bus!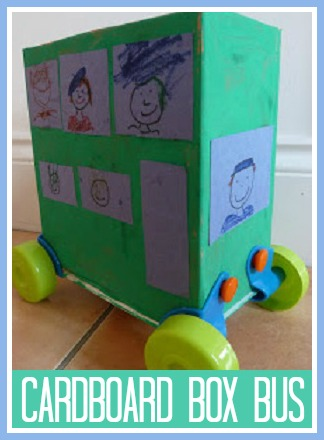 It's just a box painted green, with windows from blue construction paper. Harry helped me to draw the faces on the windows. I love that he can help me make his toys now, rather than
me making them for him
! The wheels make the whole structure a lot more stable too. The top is open so that you can put toys inside it. The set also includes a pull cord to attach to the front, I'd really recommend this set to bring a bit more excitement to cardboard box creations. It was bought from Amazon but I'm sure there are other stockists.
We've also used the fab Rolobox wheels to make a
toy camper van from a shoebox
, another popular craft. If your toddler is obsessed with buses, you can find more
bus crafts, activities and resources
here!