This month as a Parragon Book Buddy we received the brand new
Dino Supersaurus Boxset
. This boxset is part of the Dino Supersaurus range from Parragon, which also includes sticker and colouring books featuring the Supersaurs that are saving New Dino City from T-Rex and the evil Sinistaurs.
The box set comes with five cardboard 3D dinosaurs that you can build to act out your dinosaur games. Each of the four Supersaurs has a super power, and you can transform the models to add their superpower, for example adding flames to their mouth or fixing on a force field. The set also contains the baddy T-Rex so that you can act out dino battles.
The models are made from sturdy cardboard pieces that pop out easily and come with assembly instructions. I must admit that we did find the dinosaurs quite fiddly to put together and they did have a tendency to fall apart, so it's a good idea to have some glue or tape handy to stick them firmly together before going into battle!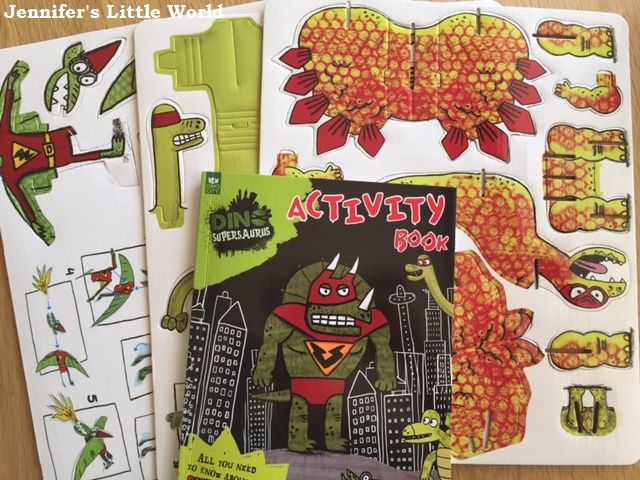 Also in the set is an activity book which is themed around the dinosaur characters in the set. It tells you the background stories behind the characters and has plenty of related activities.
It's a nice, smaller format size, and so I've put it aside to take with us on our upcoming holiday - it will be the perfect size for the tiny aeroplane tray. It is packed with a good mix of activities including colouring, spot the difference and other simple puzzles.
We received this box set and book to review.