As a Parragon Book Buddy, this month I was sent a great book to review -
Journey Around and Inside Your Amazing Body
.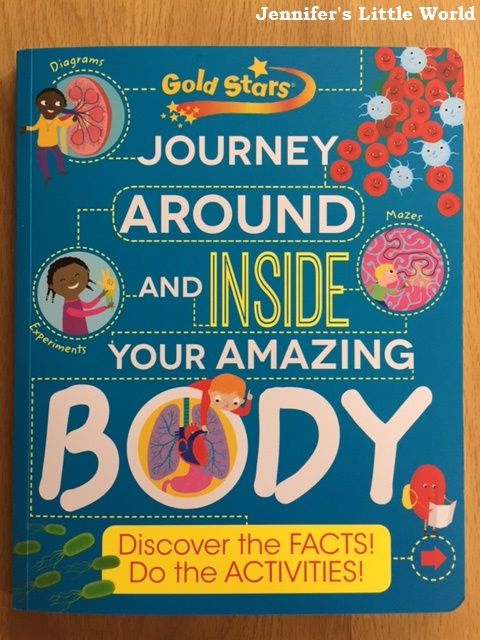 The book is a part of the Parragon Gold Stars range which I've been very impressed with. We received the
Ready for School workbook
to review over the summer which Harry loved, and we've subsequently purchased more books from the series. As well as being a great reference book which is also fun to read through, it mixes the educational content with fully-integrated puzzles, activities and experiments.
It's a fantastic thick book, and is absolutely packed with information. It takes the child around the different parts of the body, talking about cells and basic biology, different parts of the body, the senses and so on. Harry is 5 and it's very well pitched towards him. Although there are subjects that he's not yet familiar with, for example DNA, he surprised me by how much he picked up even from spending a short time with it. He grabbed the book as soon as he saw it earlier this week, and I thought that he'd only glanced through it. When one of his spelling words this week was 'cell' I thought he would have no idea what it meant but instead he told me all about cells in the body, simply from what he had picked up reading by himself!
We had a good look through the book together so that I was able to explain some of the trickier things to him. He loved the optical illusions and he enthusiastically coloured in his fingers to make fingerprints. He really does love the book and I know that he's going to be dipping into it again and again.
I've decided that it's time that Harry started to help me out with some of the cool things that I receive for him to review, so I asked him for his thoughts on the book. Here's what he had to say:
"It's quite good so far. I learned that you can feel stuff and that we have cells in our body. I liked the magic pictures because one of them you think is wobbly when it isn't and it has a duck rabbit that is a duck and rabbit at the same time.
And it has lots of stuff that you can do like the maze and puzzles. I think my friends might like to do it. I want to keep looking at it."
We received a copy of this book to review as Parragon Book Buddies.