Recently I was contacted by
Country Baskets
and asked if I would like to enter their Festive Face Off Challenge. I was sent a blogger pack of crafty items, and challenged to use them to create a festive decoration. This is what I received - some thick mint coloured aluminium wire, pale green ribbon, artificial silver poinsettia style flowers, small silver shaped baubles, wire ball decorations, a spray of frosted berries, a string of silver bells and some white wired pom poms.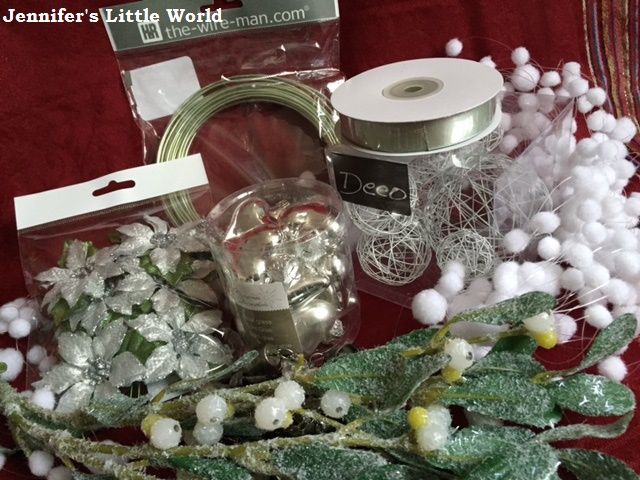 I decided that I wanted to make a centerpiece for our Christmas table. Because some of the materials were large I knew that I wanted to make something with a bit of height to it, and so even though I'd never attempted anything like this before I had a lot of fun creating! This is what I came up with:
Materials (starred items were included in my blogger pack)
Long cardboard tube
Silver Duck tape or similar (or you could use tin foil)
*Ribbon
Double sided tape
Small sturdy cardboard box
Tin foil or silver sticky backed plastic
*Aluminium wire
*Silver artificial poinsettia style flowers
*Spray of artificial white berries and foliage
*String of white pom poms
*Small silver tree ornaments
*Wire ball Christmas decorations
How I did it
I began by making the cardboard tube that gives the centerpiece some height. I covered the tube in thick silver tape, using long pieces down the length and a final piece around each end. Then I wrapped the tube in pale green ribbon, securing at top and bottom as well as points around the tube with double sided tape.
I realised that because I was planning a heavy top, the centerpiece was going to need a sturdy base so that it didn't topple. For this I used a small, strong cardboard box, and cut a hole in the centre the same size as the cardboard tube. I covered the box with silver tape (you could also use tin foil) and then wedged the tube in firmly.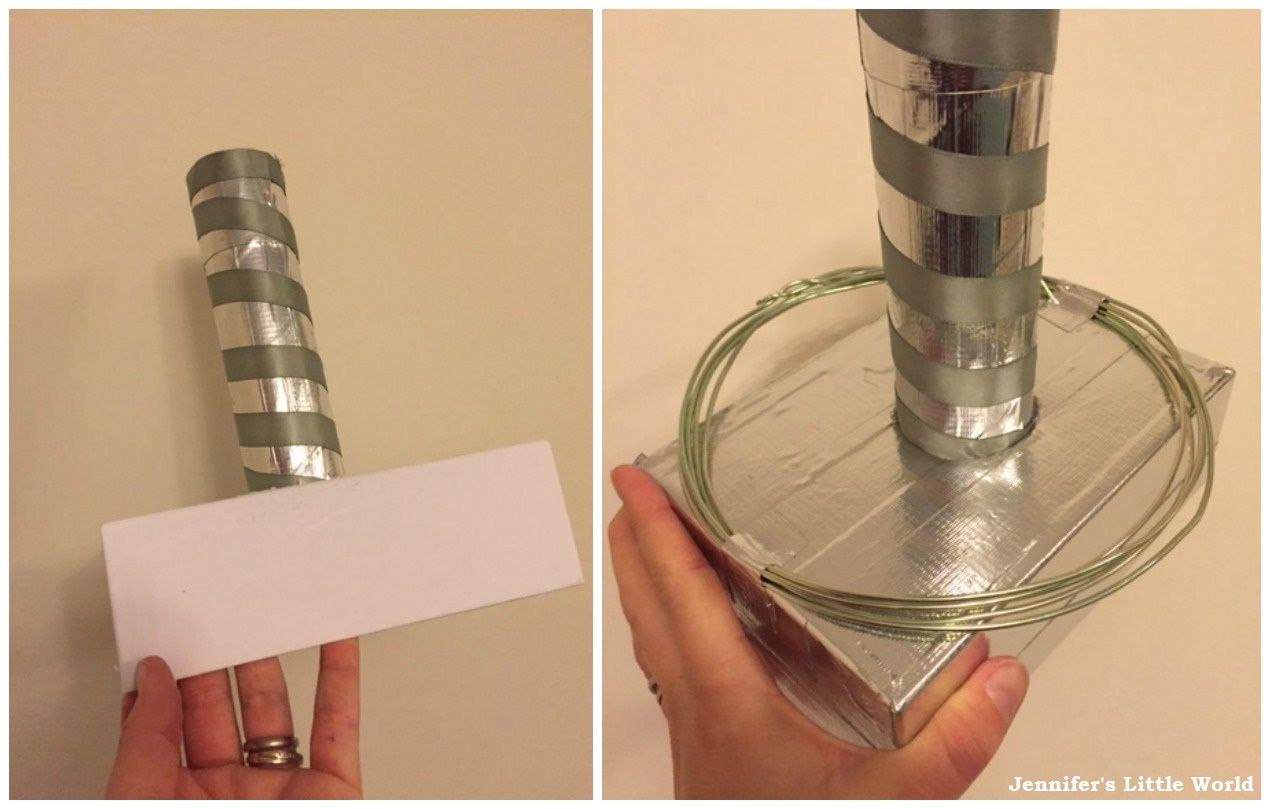 Then I used the wire to make a wreath style circle. Because the wire is so soft it was easy to mould it, I actually used a small cake tin to wrap it around. It's held in a circular shape by twisting some of the wire over at the end, then I attached it to the box base with a small amount of silver tape. Now it was time to decorate!
The entire spray of berries was rather large and inflexible so I cut off the four main strands and twisted them around the wire base, securing them in place with some silver tape. Then I concealed this and filled in the gaps with the silver poinsettias, which came with nice long wires that could be wrapped around for a bit of extra stability. That was the base finished!
Then I used some more of the aluminium wire to make a small basket for the top of the centerpiece. I've never worked with wire before so it was a bit of a challenge and I rather made it up as I went along! I made a small spiral, with the bottom circle the same diameter as the cardboard tube. Then I pushed up the sides to form the basket shape. I used silver tape again to tape the bottom of the basket to the cardboard tube which held it securely and covered this with a little more ribbon.
Then I cut some long strings of pom poms and pushed them through the spirals so that they hung down the sides. I placed some of the small silver matt and shiny Christmas tree ornaments around the base, filling in the gap in the centre of the wreath. I filled the top basket with some wire ball ornaments.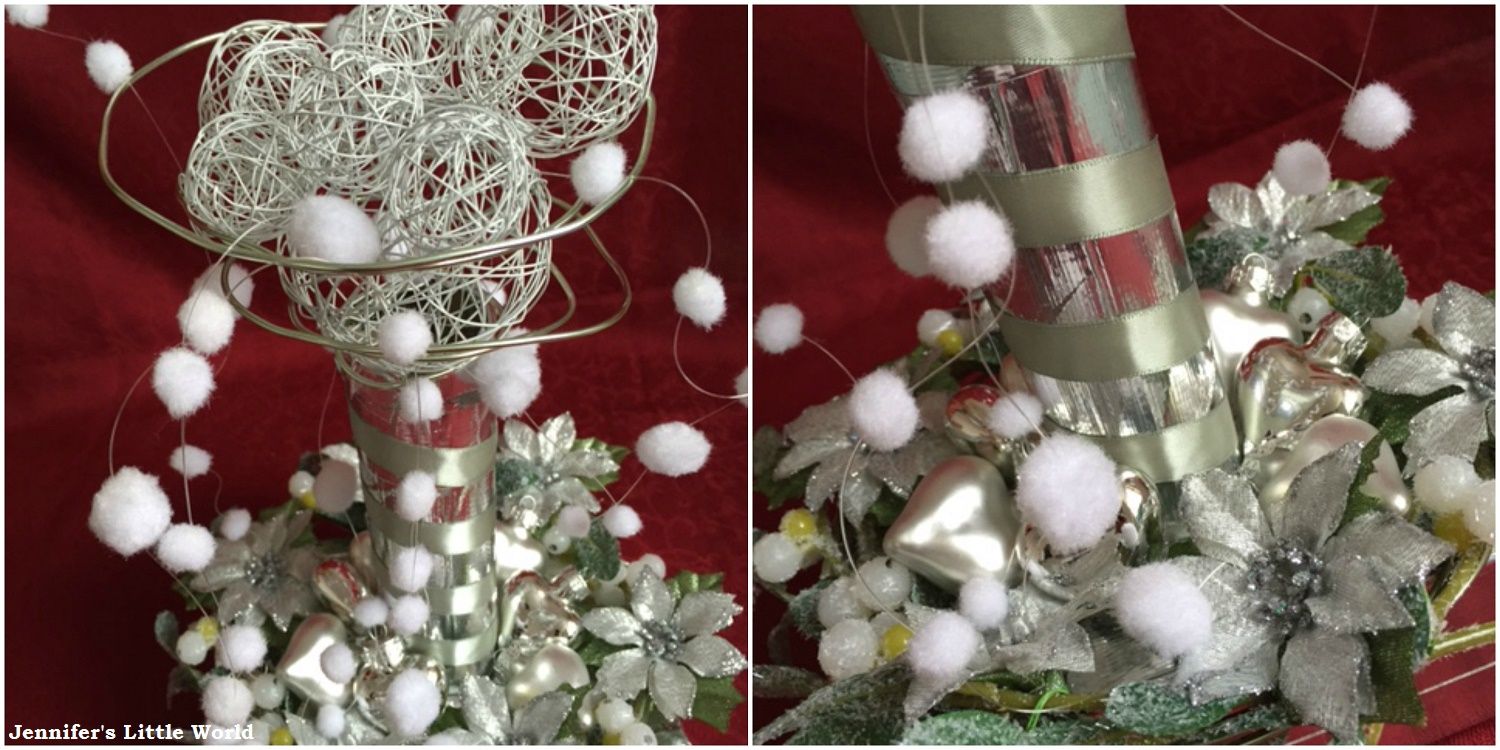 You could also use the basket to hold pinecones or other seasonal decorations. I also found that one of my silver ball shaped candles fitted nicely, although if I was going to light it I'd make sure that it was held securely, and I'd remove the pom poms!
This is my entry into the Country Baskets Festive Face Off Challenge! I was provided with the materials listed above to help create my entry.