This month, Parragon is introducing a new line of story and activity books for children aged 6 and older featuring Glitterbelle, a modern-day princess, and her best friends Dazzlina and Angel. Although she loves everything to be glittery and sparkly, Glitterbelle also enjoys racing around on her scooter and climbing trees.
We were sent two books from the new range to look at - Glitterbelle Dazzling Dress-up and Glitterbelle Doodle, Dazzle, Create!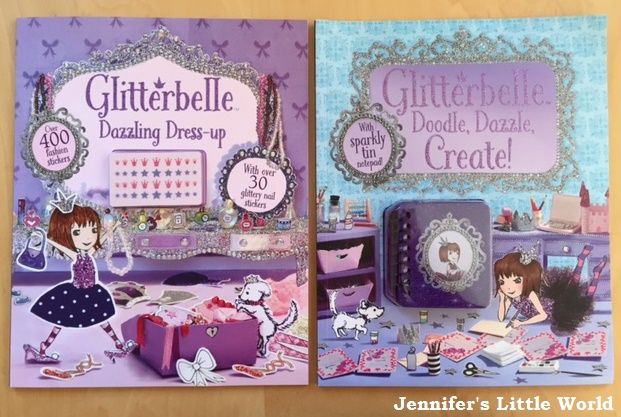 First Mia and I got out the
Glitterbelle Dazzling Dress-up book
. It's a sticker activity book, and it comes with a set of over 30 glittery nail stickers that children can use on themselves,with the book itself containing two double page spreads of stickers. Some are glittery, many are quite tiny, and there are lots of different outfits and accessories.
Each page features a picture of the three girls as they get ready for a dress-up party. There are vague directions as to the sorts of clothes that you can dress the girls in, but there is a huge selection of outfits so it doesn't matter which stickers you use. The poses do vary slightly so sometimes you need to find the matching shaped stickers, which Mia coped very well with, considering that at 3 she's much younger than the suggested 6+ age guide. The stickers are also easy to reposition if you end up with them in the wrong place, which is very handy.
Mia really loved adding the stickers to the pages and she spent ages doing it, over several days. Luckily the book has plenty of pages and lots of different scenes!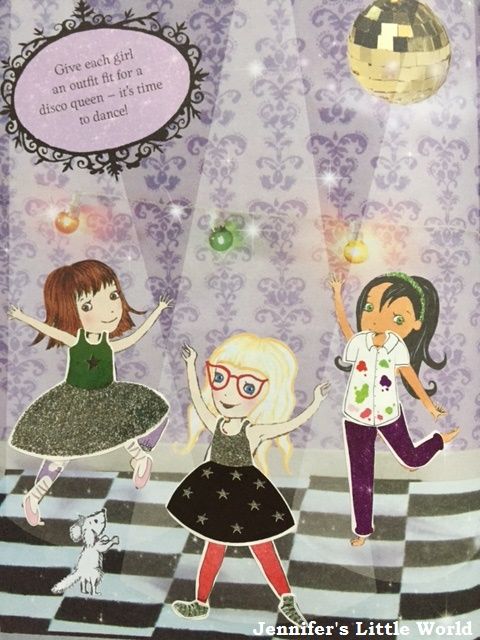 While the sticker book was perfect for Mia, the second book,
Glitterbelle Doodle, Dazzle, Create!
is definitely more suited to older children, so I looked at this one with Harry (6). Although Mia claimed the sweet little notebook on the cover, with its sparkly tin covers!
The book contains games to play, for example Snakes and Ladders, colouring pages, craft ideas that included pieces to cut out and stick together, a recipe and lots of puzzles, all tied together with the theme of planning for a sparkle-tastic slumber party at the palace.
The activities are lovely, and while they perhaps would appeal more to girls than boys, Harry isn't too bothered and just enjoyed the puzzles and so on for what they were!
I do love the illustrations in the books. They are actually elaborate miniature sets which have been created by the illustrator, Harriet Muncaster, and then photographed for the book. They are beautiful, really detailed and absolutely lovely.
These books would make great activity books for little ones. They have lots of pages so there is plenty packed in, they are definitely better value for money than other activity books we've had that have been completed in just one session!
I received these books from the publisher for free. However, they have not paid me for this review, and they do not exercise any editorial control over my review or anything else on this site. Each book is priced at £4.99.