T-Rex Terror
is a part of the Dino Supersaurus range from Parragon, and a few months ago I reviewed another book in the series, the
Dino Supersaurus Boxset
. T-Rex Terror is a comic strip storybook, written by Timothy Knapman and illustrated by Tim Wesson. It is great for children that are reading independently, with the comic book style making it particularly good for those that are intimidated by books containing large blocks of text.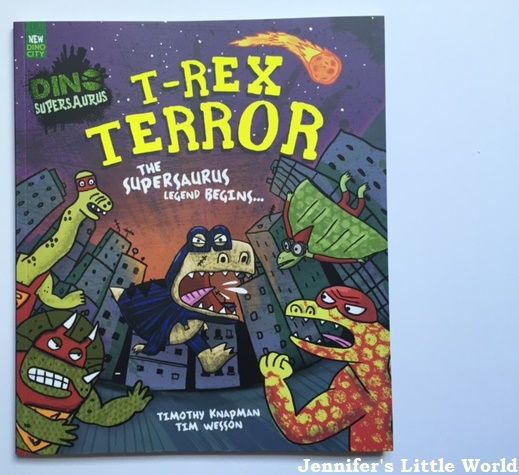 Harry grabbed this book as soon as he saw it. It's the first book that we have in this format, and it clearly caught his eye. I wasn't sure what he'd make of it, but he absolutely loved it and read it over and over. This story introduces us to the Supersaurs - four ordinary dinosaurs endowed with special powers after being struck by a radioactive meteorite. As well as fighting crime in New Dino City, they must also deal with the evil T-Rex, who wants to destroy the Supersaurs and rule the world.
It's a fun story, which Harry really enjoyed, and so I'd definitely recommend it!
I received this book to review from the publisher as a Parragon Book Buddy. However they have not paid me for this review, and they do not exercise any editorial control over my review or anything else on this site. T-Rex Terror retails for £5.99.