We love living by the sea, and we've been lucky enough to visit beaches all around the world. We usually have our buckets and spades of course, but beaches are so full of natural resources which children can use to develop and enhance their play that you really don't need anything else. I like to think I'm pretty good at entertaining children on the beach, but I was recently sent a copy of
The Beach Book
by Fiona Danks and Jo Schofield to review, and I was amazed to find such a wealth of ideas to encourage children (and adults!) to really get the most out of a trip to the beach.
The book is divided into various themed sections, for example Beach Wildlife, Beach Art and Beach Imagination. It is crammed full of ideas and beautifully illustrated with some gorgeous, colourful photography.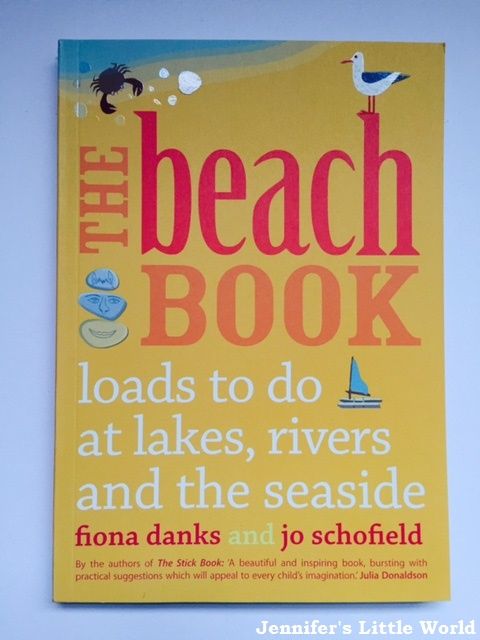 Some of the ideas are really simple, but left me thinking 'why didn't I think of that!', like making monster feet in the sand or using dry sand to 'paint' on damp sand. There are also many fresh ideas that I'd never even thought of, but which would be so much fun to try. My favourite section is Beach Art, with ideas for art to make at the beach itself - like sand sculptures and mosaics - as well as projects to use bits and pieces that you've collected from the beach - like picture frames and jewellery. I'm terrible for picking up things from the beach and I have a big box of shells and pretty stones, not to mention a bag of beautiful sea glass that I found in Barcelona a couple of weeks ago. I now have lots of ideas for creative projects!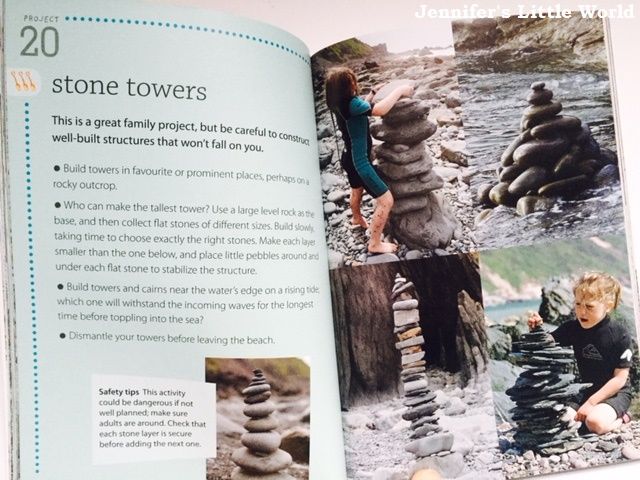 You don't need a beach or even the seaside to take inspiration from this book, all of the ideas can be adapted to different environments or use items which you may have collected from past beach visits. I really love all the photos in the book, and many of the ideas suggest taking pictures of the things that you've created so that you have a lasting memory, or using the camera as part of the activity, for example trick photographs. Cameras can also be used as a way of creating the art itself, like the shadow pictures below. It's a great way to take advantage of modern technology to enhance timeless activities.
The Beach Book is a really lovely book. I'm going to be leaving it out for the children to look through so that next time we get to the beach they are inspired to try out some new play and activities, it has certainly inspired me!
The Beach Book is published by
Frances Lincoln
and will be released on the 4th June 2015. The book retails for £9.99 but
I have a discount code for my readers to enable you to purchase the book for just £7.99 including p&p*
. To order The Beach Book at the discounted price, telephone 01903 828503 or email mailorders@lbsltd.co.uk and quote the offer code APG329. *UK ONLY - Please add £2.50 if ordering from overseas.
I received a copy of this book in exchange for a review, Amazon link is affiliate.