What the Ladybird Heard
by Julia Donaldson and illustrated by Lydia Monks was first published in 2009 to great acclaim. On the 10th September 2015, the eagerly awaited sequel
What the Ladybird Heard Next
will be published, and I've been lucky enough to receive an advance review copy.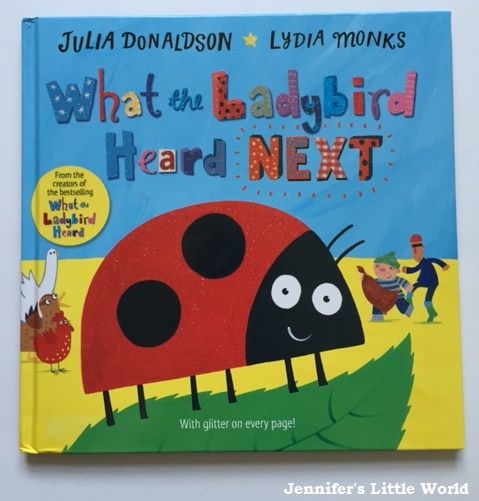 "Once upon a farm lived a ladybird, and these are the things that she saw and heard..."
The two robbers from the first book, Hefty Hugh and Lanky Len, are out of jail and are heading back to the farm with another cunning plan to cause trouble. This time they've been stealing eggs, and now they are plotting to steal the fat red hen herself! Fortunately the quiet, clever ladybird is on their trail, and she and her farm animal friends have a plan of their own...
The story is beautifully written, with rhyming text that really flows and keeps the story moving at a fast and exciting pace. The illustrations are gorgeous too, brightly coloured and with glitter on every page to provide some texture.
The little ladybird is there somewhere on every page too, but she's so tiny that she's easy to miss! There are also several pages where you can trace the insect's journeys by following the dotted lines with a finger, something that little ones love to do.
This is another lovely book from a fantastic author and illustrator partnership, and I know that it's going to be very popular.
I received a copy of this book to review. Amazon links are affiliate.