This year
Sylvanian Families
turns 30, and I'm sure that many readers of this blog will have happy memories of playing with them growing up. In our family we didn't discover them until a few years later which meant that it was my younger sister who had the largest collection, but even though I was a bit older I remember being allowed to play with them too and loving the gorgeous little characters and particularly the amazing attention to detail in the figures and playsets.
The world Sylvan means 'of the forest', and the brand has three values at heart - Nature, Family and Love. Through the figures and accessories children can enter a wonderful world of imaginative play.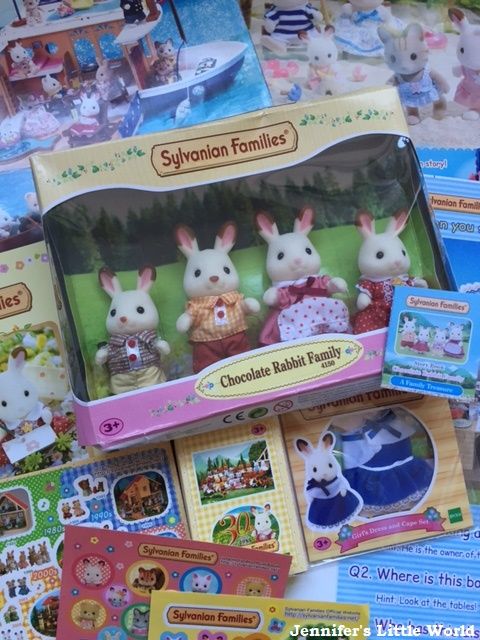 Recently I was invited to become one of a team of
Friends of Sylvanian Families
, and we were sent a lovely little bundle of Sylvanian Families goodies to welcome us. Mia hasn't yet discovered the world of Sylvanian Families, and she loved looking through the cards in this sweet pack of playing cards which feature characters and accessories from the current ranges and looking back over the years. We also received some gorgeous stickers and activity sheets. Then she was thrilled when I presented her with her very first Sylvanian Families figures - the Chocolate Rabbit Family.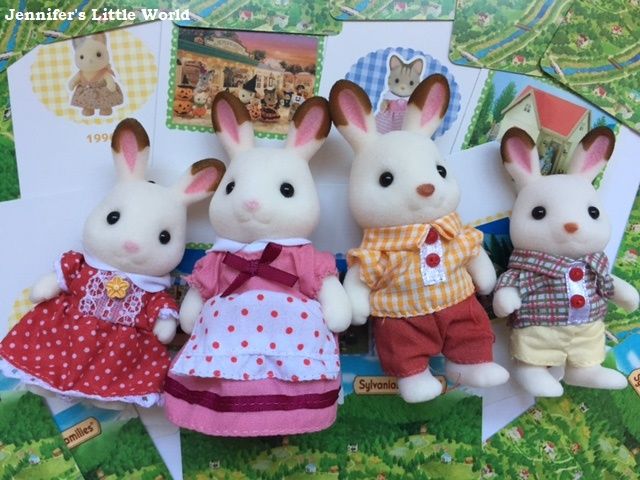 The Chocolate Rabbit Family includes Father Frasier Chocolate, Mother Teri, brother Coco and sister Freya. They are lovely little figures, with moveable arms, legs and heads, and the perfect size for little ones to hold and play with. They come dressed in their own outfits, and you can also buy additional outfits for them. As well as the figures, there is a wide range of houses, shops and other buildings, vehicles, furniture, clothing and other accessories available.
We don't have any other Sylvanian Families bits yet, so for the time being our Chocolate Rabbits have been making themselves at home in Mia's dollshouse where they fit perfectly. Look out for some Sylvanian Family crafting posts over the next few weeks!
We were sent the Chocolate Rabbit Family figures and a few other Sylvanian goodies as Friends of Sylvanian Families.