This month I've been sent some new picture books to take a look at, and today I'm sharing three lovely new books, all of which have an animal theme.
First are two books from
Macmillan
- Giraffe on a Bicycle and The King Cat.
Giraffe on a Bicycle
by Julia Woolf
One day Monkey finds a bicycle, and luckily Giraffe knows how to ride it. They go on a chaotic ride through the jungle, picking up their animal friends on the way, but can they really ride along with all the jungle animals balanced on board?
It's a lovely, cheerful story with lots of fun characters, and illustrations which invite discussion with lots to talk about.
The King Cat
by Marta Altes
The King Cat is a story about Cat, the undisputed king of his house, who doesn't want to share his home with a new dog. He's upset about the changes and about how all his rules have been broken. But when Dog goes out for a walk he realises that it is actually a bit quiet and lonely without him.
This is a great book to share with a young child that is awaiting the arrival of a new sibling, with a gentle message about sharing, and although change can be unsettling in the end it can be a change for the better.
Then from
Simon and Schuster
- Blue & Bertie.
Blue and Bertie
by Kristyna Litten.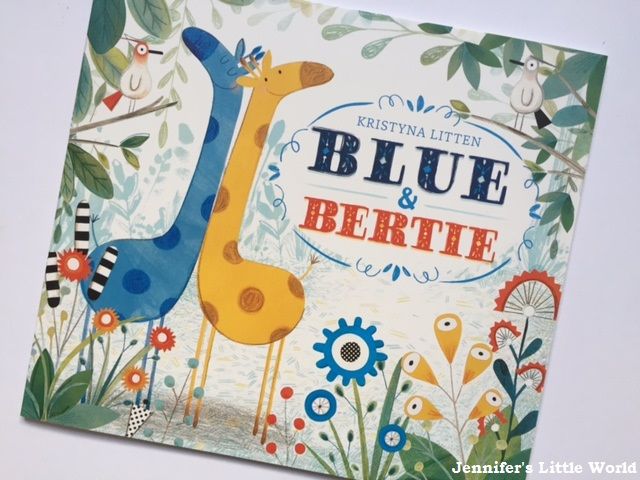 Another giraffe features in Blue and Bertie, a gorgeously illustrated story about finding friends in unexpected places. Bertie and the other giraffes do the same things every day, over and over, until suddenly one day Bertie wakes up to find that he has overslept and the other giraffes have left him behind. He has no idea where to go or what to do. But then to his delight he meets another giraffe, only this one is blue, who introduces him to places and things that he has never seen before. It's a story about friendship, with a message about what can happen if you try something a little bit different, and how much fun it can be. And although aimed at young children I think there are some thoughts there for the adult reader too!
I received these books to review. Amazon links are affiliate.