Welcome to the launch of the Crafting is my Therapy linky!
I had been thinking for a while about looking for somewhere to link up some of my regular crafty update posts, and after a conversation on Twitter I connected with Nicola at
Me, You and Magoo
, who was planning on starting a monthly linky inspired by her recent post
The therapeutic effect of being creative
.
The post really resonated with me, and I know that I definitely need to make space for crafting in my life. For me it's a way of relaxing, as well as finding a way to express myself and my own individuality. I also love seeing what other people have been working on as I find it really inspiring. So today we are launching a new monthly linky -
Crafting is my Therapy
- so that you can share your crafty blog posts. You can find more details about how to link up at the bottom of this post.
My main crafty project at the moment is my
Sky Blanket
. I love having a little project that I can work on every day (although it won't be that little before long...) and each row only takes me about fifteen minutes so I can easily fit it in. I've started working on it in the early evenings while the children are in the bath and reading, I think it's important for them to see me crafting and then perhaps when they are a little older they'll be interested enough to want to learn crochet or knitting for themselves.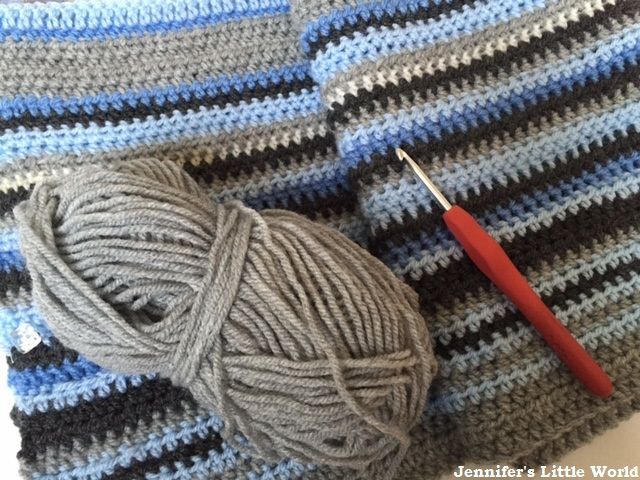 Next up, in my Baker Ross box this month there were some blank wooden hearts to decorate. As well as letting the children loose with them I also quite fancied decorating some myself, although they aren't finished yet. Below is one that I've painted (unfortunately I managed to mix up a paint colour which matches the colour of the wood exactly so you can't really tell!) and I added a border using thin red felt pen. The thick hanging lace is from Tiger, a fantastic shop that my Mum introduced me to the other week. Now I just need to find a suitable quote to put in the middle!
Finally I'm slowly plugging away at my
granny square crochet blanket
. After a big push over Christmas to get all the squares sewn together I'm now adding a wide border. It's a big blanket now so it's going to take quite a while to get it finished but I don't mind as I like having something easy sitting there ready for me to work on when I get a few minutes! I'm having a bit of trouble with the border curling up and looking uneven, so I'm decreasing stitches to try and make it lie flatter and hoping that as the border gets bigger it will be less of a problem.
We'd love you to join in with our linky and share what you've been crafting this month.
The "Crafting is my Therapy" linky will open on the first Friday of each month and stay open for the whole month – giving you plenty of time to get involved.
You can link up with maximum of three posts per month, old or new.
Grab the linky badge or link back to our blogs on your post.
Please share the love and comment on other people's posts.
If you could share your post and the linky (using the hashtag #craftingismytherapy) on any social media channels that would be great. This will help us to grow the community. We will retweet all your posts via Twitter if you mention us (@pouchvintage/@JenniferJain)
And finally, if you would like to follow me on Twitter, Pinterest and Facebook, you're more than welcome. Nicola's links are here too: Twitter, Pinterest and Facebook