On the way in, each child was given a leaflet which showed them the route around the museum, with boxes for them to stamp at numbered locations. They loved this, and it was a good way for them to get a sense of the size of the museum and the different things that they would see on their way around. There was also a stand with plenty of other activities for children to pick up to enhance their visit - we collected some postcards to colour in and a pop out bus to make when we got home. Since coming home I've had a look around the website and discovered some more brilliant educational resources, both to use during your visit and for when you get home, which you can find here -
London Transport Museum Learning
.
The museum trail starts in 19th Century London, with a central exhibit showing the first horse drawn buses. You can even climb inside one of them. The display gives a good sense of just how messy the streets of London must have been with all those horses walking around! There is also a very interesting section on the London Watermen that ferried people across the river before there were as many bridges as there are now.
The part of the museum that we found the most fascinating was all about the building and use of the London Underground. There was a lot to read, and plenty of scale models which really brought the history to life. In particular, one model of an underground tunnel being built really fascinated the children, giving us a chance to look around the displays. There were interactive exhibits for little fingers, and in a room all about the history of marketing the London Underground, brilliant moving projections on the floor kept them amused for ages, chasing them around with other children!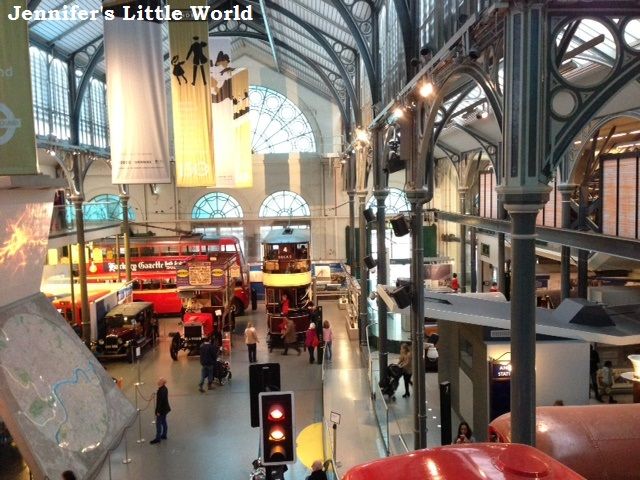 Harry has long had a huge fascination with trams, and so was delighted to find a couple of real trams on the ground floor, as well as a small model tram which moved backwards and forwards on a straight track. I'm not sure why he finds them so interesting, but it did mean that we had the chance to spend a good amount of time in this area and I learned a great deal about the history of the tram in London.
The museum is fairly compact in size, although there is plenty crammed in, so it's good for little legs that can't do much walking. There is a free cloakroom at the entrance where a small number of folded pushchairs can be left, and also a buggy park on the ground floor, although the museum is fully pushchair accessible with lifts.
There is a cafe on the ground floor, with additional seating where we could eat the food that we had brought with us. Next to this is a little play area with model transport for children to play in and a small wooden railway complete with underground. There is a toilet with baby change, and a feeding room.
We really enjoyed our visit to the London Transport Museum and I'd definitely recommend it if you are visiting London with children of any age. There was a huge amount about the history of public transport in London that we didn't know, and everything was presented in an engaging way that was easy to understand, and compelling.
February Half Term Activities at the London Transport Museum
If you are planning to visit the London Transport Museum during the February half term (Monday 17th February until Friday 21st February) there will be some special family events taking place:
Pop-Up Stories
Storytime: 11am and 2pm - Join Jemima and her cat on an outrageous journey through London adventures, with the help of our Illustration exhibition.
Make and Take: 11.30 and 2.30 - Discover exciting pop up techniques to make a picture telling one of your favourite London stories.
We received complimentary tickets to the London Transport Museum in exchange for a review. Children aged 17 and under are free to visit the museum, and an adult ticket is £15. If you are travelling to London by train, the London Transport Museum is currently included in the 2FOR1 promotion, and you can find out more details here - 2FOR1 offers by train.