Thursday 6th March 2014 was
World Book Day
. I've been aware of it for a few years now, mainly from panicked online chatter about costumes. Now that Harry is in school, this was the first year that I needed to help him prepare a costume. I might appear crafty, but I've not had a lot of experience with costume making, so I wanted something easy and definitely from a book that he knew and enjoyed. I recently read Charlie and the Chocolate Factory to him and he absolutely loved it, so Charlie Bucket seemed like an obvious choice.
The most important prop was a Golden Ticket. There are lots of printable Golden Tickets online. I used the one which I found here -
Golden Ticket
- because it was simple and high quality. We printed it in colour and then I glued it onto some gold cardboard. The book also contains the full text that was printed on the Golden Ticket, so you could type it all up yourself into a document and then print onto yellow or gold paper.
Then we bought him a Wonka chocolate bar. They are easily available in the supermarkets and I have to say that they are delicious! I bought my favourite which is the Millionaire's Shortbread bar. I didn't trust Harry to take a bar of chocolate into school and return with it intact for me to eat, so I removed the chocolate for safekeeping and replaced it with some thick cardboard.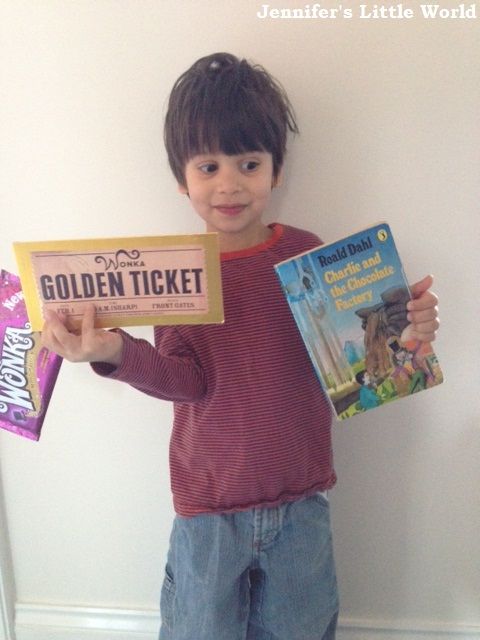 Then I just dressed him in some old clothes - a pair of jeans that were a little too short in the legs, and a top which is getting a bit scruffy. He's quite skinny anyway and also generally quite scruffy, so he looks the part!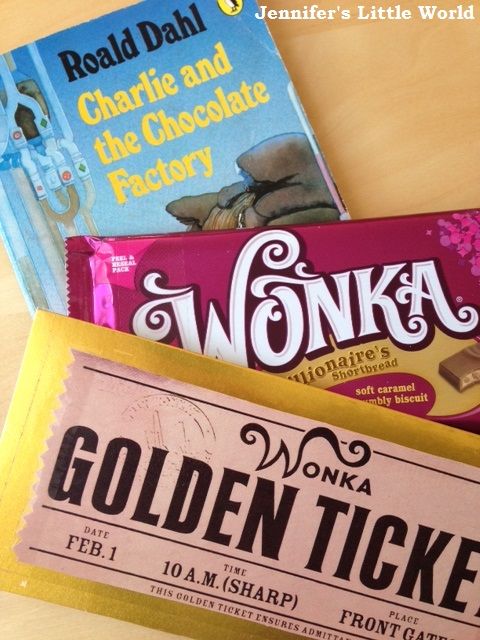 For a different twist on the theme you could even
dress your child up as a golden ticket like Domestic Goddesque
! You can also find some more Roald Dahl costume ideas here -
World Book Day Roald Dahl easy fancy dress ideas
- and Netmums have also put together a fantastic post of really easy
World Book Day Dressing Up Ideas
which I'll definitely be turning to in future years!