This month, as a member of the Baker Ross Bloggers Network, I have received a great selection of crafty goodies, so many that I have split them across two blog posts - Mother's Day crafts and Easter/Spring crafts. Mother's Day this year will be celebrated in the UK on 15th March 2015, and I think that most Mums would love to receive a hand crafted gift from their children. Baker Ross sells a whole range of crafting kits and materials that allow children to make some lovely gifts and keepsakes for their Mum.
We started by making some Mother's Day Handprint Poem Decoration Kits to which I added a calendar pad (now 99p for ten 2015 calendars). The kit is really simple but I like how it can be customised by the individual child. You just need to draw around and cut out their hand from green foam, then place inside the flowerpot which comes with a pre-printed poem. Then you can use the included flower and leaf stickers to decorate it. Harry (6) was able to make his entirely by himself, even if he was a bit heavy handed on the leaves, and Mia (3) just needed help cutting out her hand shape. Mia also didn't perhaps quite follow the plan but I love that it is her own interpretation. They make really neat little calendars to hang on the wall.
Next I used some
Pastel Pom Poms
to make some sweet little frames to display some suitable Mother's Day type quotations. I've always found pom poms quite difficult to craft with, as I can never get them to stick very well. I've discovered that you need to use plenty of PVA (white) glue and allow them plenty of time to dry, and this time they stayed beautifully stuck.
I searched online for some suitable quotations to use. There are lots out there but I quite liked the list that I found here -
100 Inspiring Quotes about Moms
- from which I chose my favourite two and printed them out. Then I made a frame using strong cardboard. You don't need to be too neat, as the edges will be covered by the pom poms anyway. Then, with plenty of PVA glue at the ready, Mia and I made a frame each.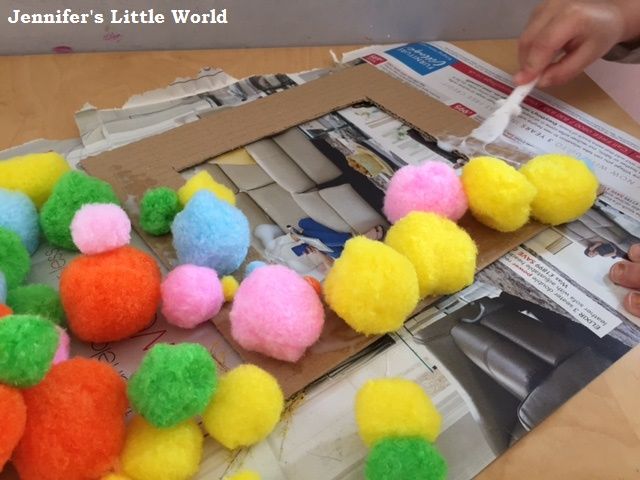 I mounted the printed quotes onto thin cardboard for strength and taped them firmly onto the back of the frames. They will look lovely and cheerful on my desk! They would also make a lovely gift if you used them to frame a photograph of the children, or perhaps to frame a picture which they have drawn.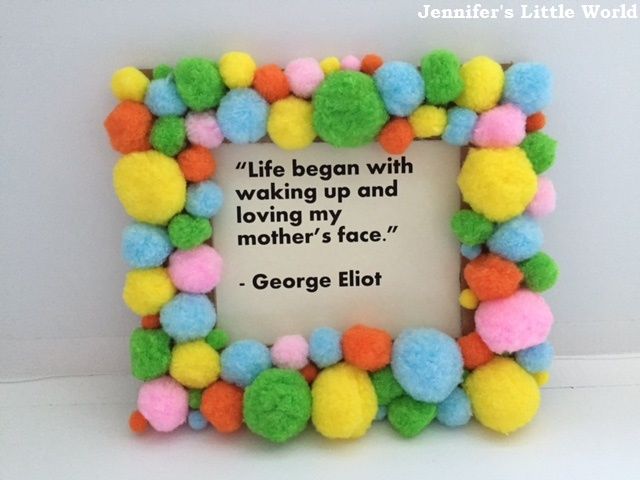 Finally, these
Bird Suncatcher Windchimes
. You will need something suitable to colour them with, and we used some porcelain and glass glitter pens that I received in a previous craft bundle from Baker Ross. Harry decided to colour in the wind chimes too and it worked really well. These are going to go out in our summer house in the summer!
If you are a Mum, what sort of homemade gifts do you like to receive from your children for Mother's Day?
I received these items from Baker Ross as part of the Baker Ross Bloggers Network.