Unfortunately Pandora's Crafty Box subscription boxes are no longer available.
I was recently contacted by Pandora's Crafty Box to see if I would like to review one of their new monthly crafting kits. These UK craft boxes aim to introduce you to a variety of crafts, each month focussing on a different craft with all the instructions and materials that you need to create a beautiful project. I'm a big fan of themed craft kits because I love trying new crafts and I like to have everything that I need in one place. This month the theme is polymer clay, and while I've dabbled in the craft before I'm often a bit stuck for inspiration.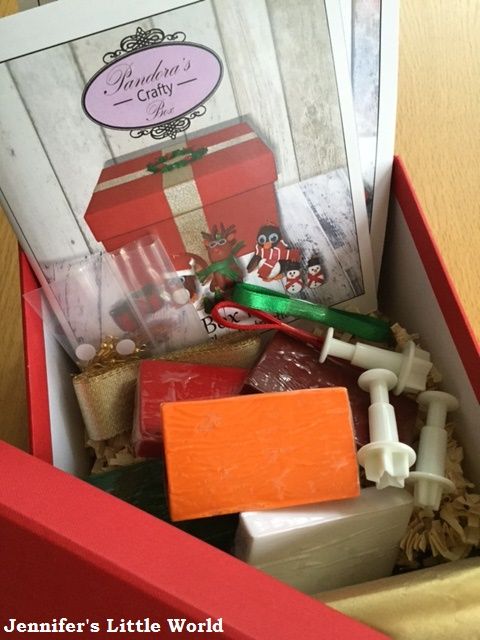 The kit contains six generously sized packets of polymer clay in festive colours, various jewellery fixings, googly eyes, three types of ribbon and three little flower cutters, as well as full instructions for a wide range of projects. Of course you aren't limited to the projects in the book, they are just a starting point and you can also find further inspiration on the
Pandora's Crafty Box Pinterest boards
.
The instructions take you through how to make a variety of seasonal items - three pairs of Christmas earrings, three tree ornaments and a box topper and ribbon to turn the box containing the kit into a gorgeous Christmas gift box, a lovely idea.
I decided to start with some little snowmen earrings. The instructions were simple and easy to follow, nicely broken down into steps. The polymer clay was good quality and easy to work with and it didn't take me too long to make these sweet little snowmen! I don't actually have any festive earrings, so I'm looking forward to wearing them at some of our Christmas events this year! The kit also contains instructions for miniature Christmas trees and tiny present earrings.
Then I turned to the tree ornaments and chose a cute owl decoration. There are instructions for three ornaments - an owl, penguin and reindeer. I think he's lovely, I do like handmade tree decorations and these are going to take pride of place.
The crafty box comes with all the fixings that you need to finish off your projects properly, like the little screws and earring hooks. There is plenty of clay to complete all the projects and even though I still have some of the projects to do it looks as though there will be lots left over for other ideas.
I think that a monthly crafting box is a great idea, I'd really love to receive something like this each month. Each month will feature a totally different craft which will be themed, and I'm sure that they are going to be very popular. You can find out more information on the Pandora's Crafty Box website, or keep an eye on their Facebook page to see what other people have been creating.
I received November's Crafty Box in exchange for this review. Unfortunately these subscription boxes are no longer available.