Welcome to December's Crafting is my Therapy linky, and thank you to everyone that has linked up! I'm afraid that December is going to be the last Crafting is my Therapy blog link up for now, as things have been getting very busy. But
Nicola
and I would really love to keep seeing what you have all been working on. So we have decided to launch an Instagram hashtag which will change each month so that we can all stay connected. For December it will be #craftingismytherapy_december, and we really hope that you'll use the hashtag to share anything crafty that you've been working on. Nicola and I will also be choosing our favourite images each month to share, and you can tag as many posts as you like!
My Instagram account is here
and you can
find Nicola here
.
To celebrate all the crafting that has been shared over the last few months we have a little giveaway of crafty goodies, and you can find more details further down this post.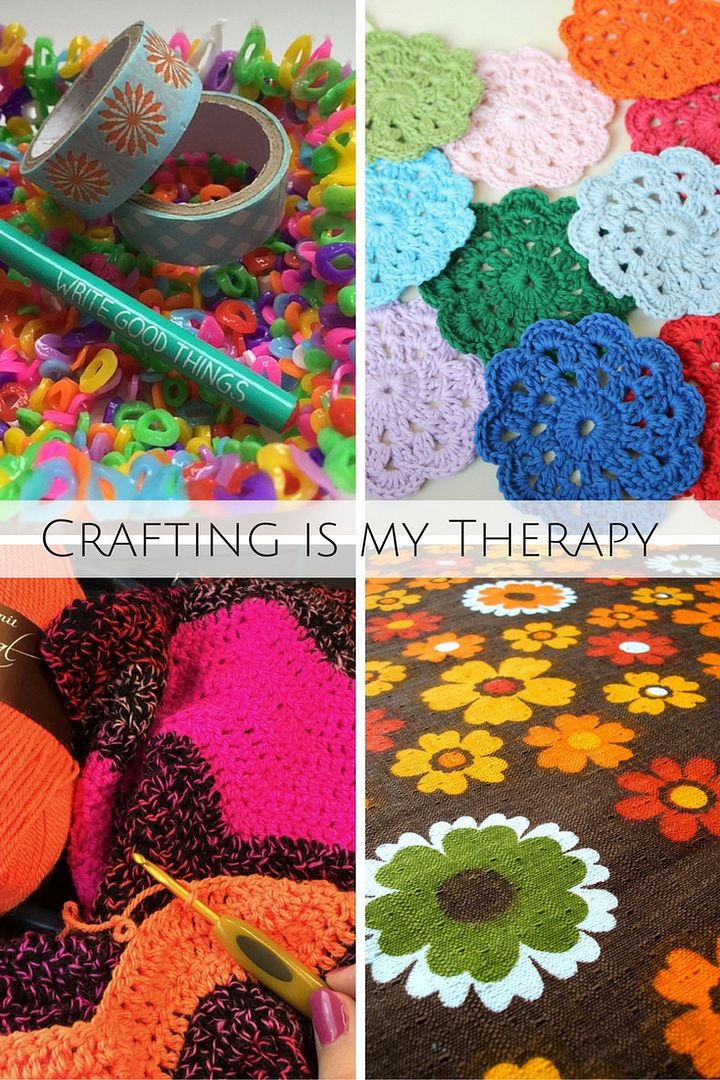 With Christmas approaching rapidly, I have been very busy crafting this month! I think that it's my favourite time of year for crafting, and I've been making Christmas cards and decorations with the children as well as working on some crafts for myself.
My Sky Blanket really is coming on now, and I can't believe that it is coming to the end of the year. The blanket is getting so big that I've been working on it a few days at a time rather than having to keep getting it out and fold it away. I discovered that I'd managed to lose a few stitches as I was going along so I've been quickly adding a few back in with each row - a lesson for next time to keep a closer eye on my stitch count! It's not going to be finished at the end of December as it's definitely going to need a border, and I'm also thinking about making a wider border down the sides to make it a little more even in size. I have quite a lot of yarn in my stash in another shade of blue, so I'm going to see how that looks for the border and I'm hoping that the colours will match nicely.
I've also been working with White Stuff to produce some Christmas wreath crafts using their fabrics. I made a large wreath using strips of fabric, and some smaller wreaths for the Christmas tree.
You can find a link to my blog post here -
Sew this is Knitmas with White Stuff
- and below is one of the videos that I made demonstrating the crafts.
I've also been doing some Christmas crafting using Posca pens, which I have mentioned previously on Crafting is my Therapy. They really are fab pens, and I used them to decorate some wooden tree ornaments which worked really well. You can read about them here -
Decorated wooden Christmas tree decorations
.
I really enjoyed working on my White Stuff videos, ever since my Media Studies A-Level I've always liked the idea of having a go at video editing and over the last few months I've been having a lot of fun putting together little videos. It's definitely something that I want to keep going at, particularly the crafty demonstration ones. Below you can see a little video of the Posca pens in action, look out for more crafty videos over on
my YouTube channel
! I'm also planning on joining in with Vlogmas this year and posting a festive video each day of December leading up to Christmas, I'd love you to pop by and take a look.
So as I said, this month we have a lovely giveaway for you! We have a box of crafty goodies all ready to send out to one lucky linker. Terms and conditions can be found at the bottom of this post, but all you need to do is link up an eligible post and the winner will be drawn at random. Here's what is in the box - a small box canvas, wooden hearts to decorate, coloured sheets of felt, sea shells, a wooden frame to decorate, heart buttons, Bostik Glu Pen, Bostik Glu Dots, Blu Tack, two rolls of patterned tape and a glitter Pritt stick.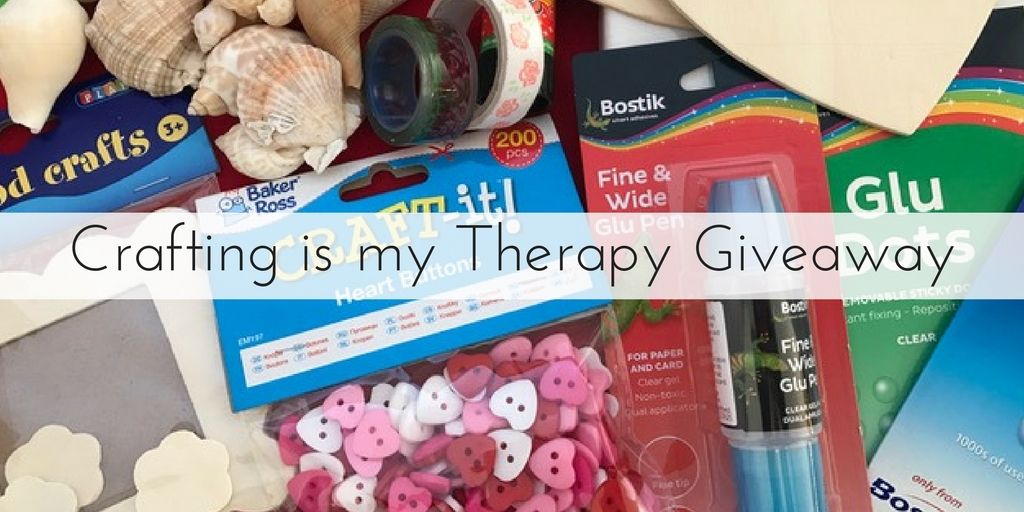 What have you been working on this month? We'd love to see!
The "Crafting is my Therapy" linky will open on the first Friday of each month and stay open for the whole month – giving you plenty of time to get involved.
You can link up with maximum of three posts per month, old or new.
Grab the linky badge or link back to our blogs on your post.
Please share the love and comment on other people's posts.
If you could share your post and the linky (using the hashtag #craftingismytherapy) on any social media channels that would be great. This will help us to grow the community. We will retweet all your posts via Twitter if you mention us (@pouchvintage/@JenniferJain)
And finally, if you would like to follow me on Twitter, Pinterest and Facebook, you're more than welcome. Nicola's links are here too: Twitter, Pinterest and Facebook
Giveaway terms and conditions

The prize is a box of crafty goodies as detailed above.

The winner will be chosen at random from eligible entries to the linky this month.
This giveaway is only open to residents of the United Kingdom.

In order for an entry to be eligible it must be a relevant post, it must mention the "Crafting is my Therapy" linky either by text or using the badge, and it must link back to one of the linky hosts. The linky will remain open until 11.55pm (GMT) on Friday 30th December 2016.

If the winner does not respond within 28 days we will redraw and reallocate the prize. There is no cash alternative. Invalid entries will be discounted.