Summer is nearly here, and Baker Ross have a huge range of craft products to keep children busy! As a member of the Baker Ross Bloggers Network I receive a regular bundle of craft kits and supplies. Here's how we've got on with some of the latest items from the new summer craft range.
The Kaleidoscope Scratch Art Hanging Decorations (£2.99 for 10) are a simple idea, but I was very impressed with them. We were visiting friends and so I took a pack around for all the children to do together. The kits were perfect to take along as they contain everything that you need, and don't create any mess. The younger children loved how easy it was to scratch out a design on the black to reveal the colours underneath, and Harry in particular spent ages on his creations, as well as being fascinated by the process.
They are so bright and cheerful! Baker Ross offer a huge range of different Scratch Art sets in all different shapes and designs and they really are brilliant and much easier than trying to replicate the idea yourself, which we have tried and failed to do!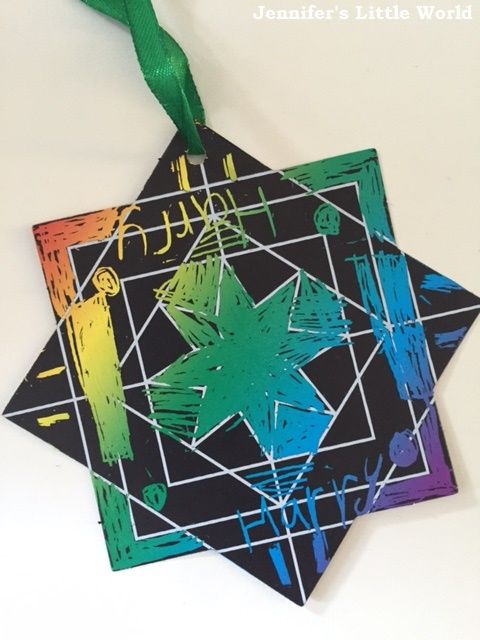 Next we used Fluorescent Coloured Sand (£9.99 for 6 350g bottles) to fill up some
Animal Sand Art Bottles
(£3.49 for 6). This was something that the children had never seen before and they were fascinated. The set of bottles comes with a little funnel which you place into the lid of the bottle and then pour in the different colours of sand in turn. Harry was able to do this by himself, and Mia was content to let me know which colour she wanted to use and to watch while I poured it in. It didn't make nearly as much mess as I was anticipating, and both the children loved it. The finished bottles look really pretty on the windowsill. The coloured sand went a very long way too, even after filling these bottles and the sand picture art craft below we still have plenty left.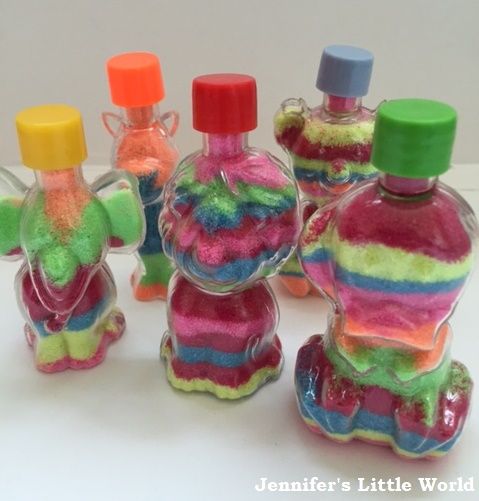 Next we decorated some
Gnome Suncatcher Stakes
(£2.99 for 6). To decorate them we used
Glitter Porcelain and Glass Pens
(£9.99 for 5) which we received in a previous box from Baker Ross and have used for several subsequent crafts, they are still working well, and I remembered to put newspaper down on the table this time! Colouring in the stakes kept the two of them quiet for a long time as they concentrated on their individual designs.
The stakes were perfectly timed as we have just been planting our first seeds of the year and the gnomes decorate them nicely. The two child decorated flower pots at the front of the photograph were sent by
Baker Ross in a box of spring crafts last year
, as you can see they are still proudly on display!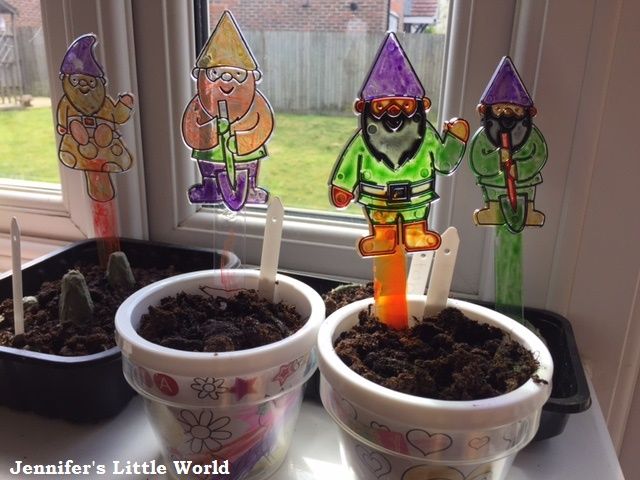 Back to the coloured sand, and we made some
Sand and Glitter Art Picture Sheets
(£2.99 for 8). This is definitely a summer craft, because it is best done in the garden!
The top layer is pre-cut and you peel it back to reveal a sticky surface underneath. You simply remove the paper from the area that you want to colour, then sprinkle the sand over the sticky paper, rubbing it down with your fingers so that it is stuck securely. There is actually very little wastage of coloured sand (although enough that I was glad we'd done it outdoors!).
Harry was able to get on with this entirely by himself. At first I wasn't sure about letting Mia loose with the bottles of sand and I sprinkled it on for her, but she actually surprised me with her control over it, and she loved choosing her colours. The both really enjoyed making their pictures and were so proud of them, the colour of the sand is really vibrant and it stuck brilliantly. We'll be using these gorgeous pictures to decorate our summerhouse with!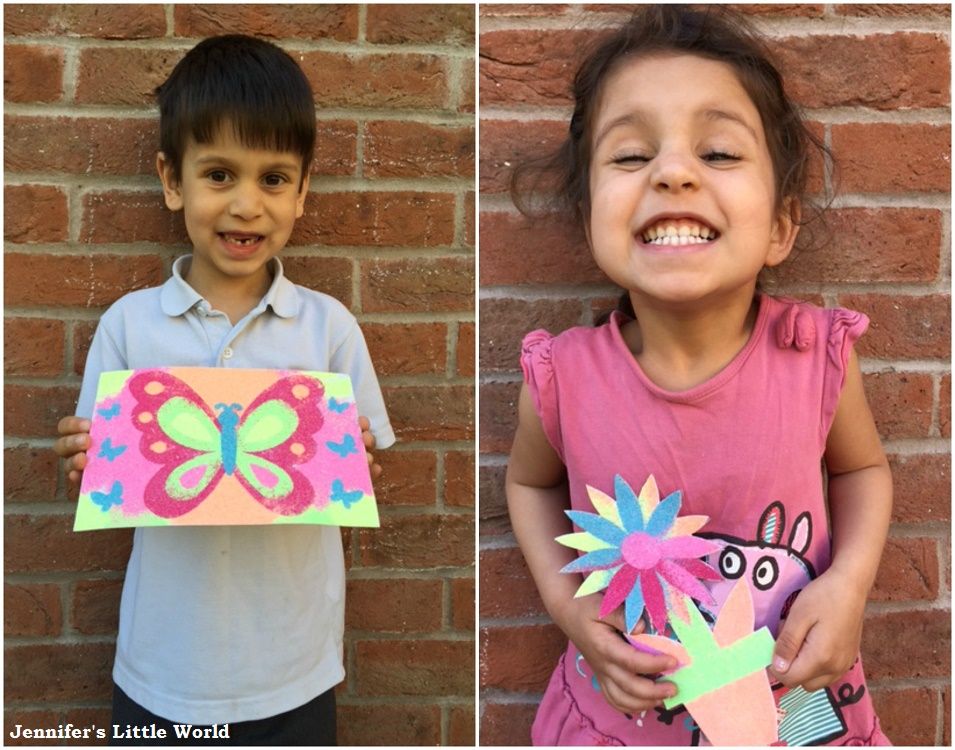 Finally, they each decorated a
Ceramic Castle Coin Bank
(£3.49 for 2). We don't have any porcelain pens or paint, so we just used poster paint as a base layer and then decorated with acrylic paints and sparkly poster paint which worked really well. Aren't they lovely!
As always, we've had a lot of fun with our Baker Ross craft products. I think that they are amazingly good value, and you can find craft kits themed around almost any theme imaginable, as well as very reasonably priced basic crafting supplies.
We received a box of crafting supplies from Baker Ross as part of their Bloggers Network.