I'm always brainstorming ideas for blog posts when I plan my editorial calendar, and after sharing some of my ideas for
crafty blog posts
I thought I'd write a similar post with some blog post ideas for travel bloggers. Many are also suitable for, or can be adapted for, blogs in other niches, so I hope that you find this post helpful! If you aren't a blogger, they are also great prompts for a journal or diary.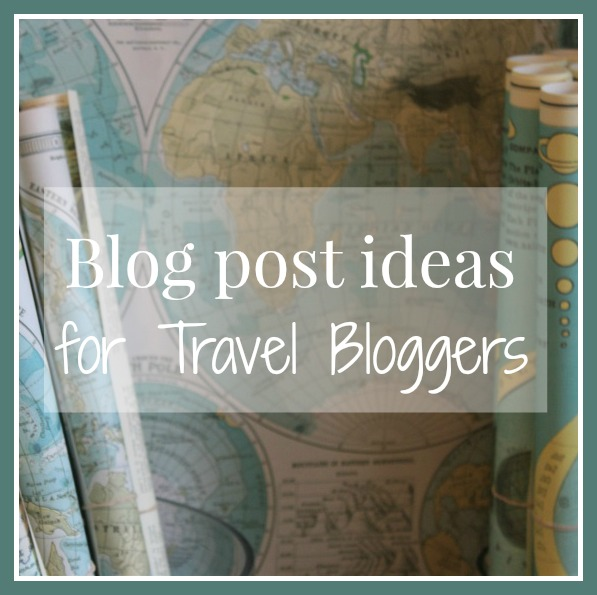 Share your travel wishlist, but not just a general list, be specific. For example, a list of places to visit at certain times of the year, like my
Winter Travel Wishlist
. Perhaps places that you would like to visit for just a few days, or for much longer. City breaks, beach holidays, adventurous destinations, historic sites, natural wonders or technological marvels.
If you had unlimited funds, where is the one place that you would love to visit?
How do you remember all your travels? Do you take photos, keep a written diary or blog, buy souvenirs or collect mementoes?
What memories of your travels do you have around the home? Photos on the walls, souvenirs that you've brought back?
What gives you inspiration for your travels? Books, films, family and friends? Has anything in particular ever inspired you so much that you booked a holiday immediately?
Do you like to try out new places or do you return to the tried and tested favourites?
Do you like to plan holidays well in advance in great detail or are you more spontaneous?
Where do you look for reviews when booking a holiday? Do you leave your own reviews?
What are your tips for saving money when booking a holiday?
What sort of traveller are you and do you have any tips that would help others in the same situation? For example, travelling with a young baby, travelling as a large family, travelling with special needs, travelling on a very strict budget.
What sort of holidays do you not enjoy at all and why? What are some places that you are really not interested in visiting? Why not?
Crowdsource - if you are planning a trip somewhere ask others for their tips and advice on that destination.
What have been your favourite meals out, along new foods and drinks that you tried. Include a link if possible so that readers can experience themselves. For example, the best food that I've eaten while travelling has to be pizza in Naples from
L'Antica Pizzeria da Michele
- absolutely worth the wait!
Do you have any recipes to share that are inspired by food you've tried on holiday? Or any particular shops to recommend where you can buy ingredients to make these dishes?
Packing tips - do you travel light or do you like to be prepared for every eventuality? What are the advantages and disadvantages of both?
What is your packing checklist? What do you always take with you, and what have you found you can leave behind? Do you have different packing lists depending on the type of holiday?
Have you ever taken a long trip with just hand luggage? What are your tips for reducing what you take away with you?
How do you keep organised on holiday? Do you have any products which make your life easier, for example a wallet to keep documentation safe or a particular brand of packing cubes?
What have you done on your travels that has been completely out of your comfort zone? Have you ever surprised yourself?
What is your road trip playlist?
How do you keep yourself entertained on a long haul flight, and what do you pack to make it more comfortable? If you have small children, do you have any tips for keeping them occupied and happy?
Write about something that went wrong while you were away, and how you dealt with it. What could you do to avoid it happening again, and do you have any advice to share?
Holiday traditions - what do you always do on holiday? Always try a new food? Do something that is out of your comfort zone? Buy a particular souvenir?
Share holiday memories - places where something significant happened or that have a special meaning to you. Did you get married or engaged somewhere special or have any unusual experiences?
Childhood holidays - which were your favourites and particularly stick in the memory?
Has anywhere that you've visited disappointed you, or it wasn't what you were expecting?
What do you do when you are on holiday that you don't do at home? You can read my list here -
Things I do on holiday that I don't do at home
.
Do you send postcards when you go away? Or do you have a collection to share of ones that you've received?
What is the most unusual way that you have travelled?
Who have been your favourite travel companions? Or do you prefer to travel alone?
What have you learned from travelling?
Write a round up post which collects together some of your previous blog posts by theme.
Write a review - of a place that you have visited, an attraction that you've enjoyed, an airline or train company, or any kit that you use, for example suitcases, clothing, gadgets.
Round up links to your social media profiles so that people can follow you on your travels before you have chance to write it all up in detail.
Finally, you don't need to be constantly travelling away to come up with content for a travel blog. Write about your own local area. What are good places to visit, do you have any local tips to share? Perhaps you know about days when you can visit a local museum for free, or the best place to find free parking for an attraction. Where have you visited in your local area? Perhaps you could put together a round up of the best places to visit with young children, with older children, for free, with a dog and so on.
If you use any of these ideas in a blog post I would love to see it, please feel free to leave a link in the comments!
Looking for more blog post ideas? You might also like my list of blog post ideas for crafty bloggers, which can be adapted to all sorts of niches!
Blog post image uses a photo by Ruthie via Unsplash.